Ethiopian lawmakers unanimously elected the country's first female president on Thursday, days after approving one of the world's few "gender-balanced" Cabinets as the country's dramatic reforms continue.
As seasoned diplomat Sahle-Work Zewde assumed the largely ceremonial post, many celebrated Africa's only current female head of state. The continent's first female president, Liberia's Ellen Johnson Sirleaf, left office this year.
Sahle-Work has worked in various United Nations organs and was the first director-general of the U.N. office in Nairobi. Until recently she was the U.N. secretary-general's special representative to the African Union.
"In a patriarchal society such as ours, the appointment of a female head of state not only sets the standard for the future but also normalizes women as decision-makers in public life," the chief of staff for Prime Minister Abiy Ahmed said on Twitter.
The East African country long has shown some of the lowest indicators of gender equality in sub-Saharan Africa, UN Women has said. "Women and girls in Ethiopia are strongly disadvantaged compared to boys and men in several areas, including literacy, health, livelihoods and basic human rights."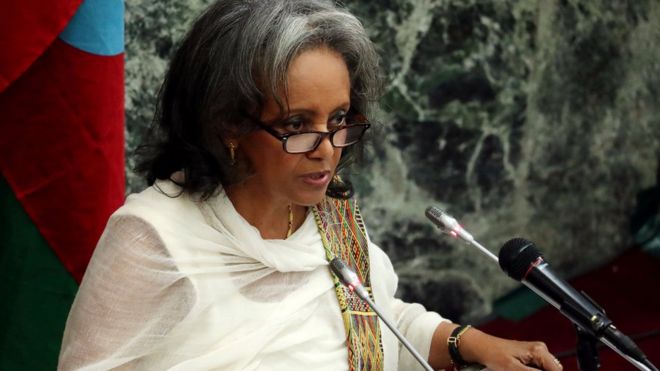 But the new prime minister has clearly decided to include women's leadership in the sweeping political and economic reforms he has announced in Africa's second most populous country since taking office in April.
Ethiopian lawmakers last week approved a Cabinet with women making up a record 50 percent of ministers, including the country's first female defense minister. A woman also leads the new Ministry of Peace, will oversee the powerful National Intelligence and Security Service and the Federal Police Commission.
The Horn of Africa power joined a handful of countries, mostly European, where women make up 50 percent or more of ministerial positions, according to the Inter-Parliamentary Union and UN Women.
Likely inspired, Rwanda two days later announced its own Cabinet with 50 percent women. The country has received international recognition for female representation in government.
"The African continent is leading the way in showcasing that women's engagement and leadership are crucial to lasting peace," U.N. Secretary-General Antonio Guterres said on Twitter.
Sahle-Work called Ethiopia's recent transfer of power to Abiy after months of anti-government protests demanding wider freedoms "exemplary." The ruling coalition that has led the country since 1991 and with allied parties holds every seat in Parliament agreed earlier this month to have Abiy lead the party until its next congress, a vote of confidence in the reforms.
The new president said she will focus on bringing together all sides to achieve peace in a country where multiple ethnic-based conflicts have simmered in recent months as political dialogue opens up.
Source: time.com