Allison Kimball is easily one of the coolest humans we've ever met.
By Tianna Soto
With captivating eyes and her signature golden curls, Kimball is an accomplished international model (ahem, she's signed with Wilhelmina) and activist who cares about wellness and making the world a better place. Not to mention she feels like your BFF within minutes of meeting her — TBH, we could all use a dose of her positive energy!
Our Good Moves hub is all about making moves that feel good for you, from accessible fitness to boosting your happiness. To kick off this series, Allison spoke with Her Campus about life as a model, self-care, and why she'd be nowhere without her wellness routine.
Her Campus: You began modeling at age 12. What was it like getting started?
Allison Kimball: Usually, when you see successful models — Victoria's Secret angels or anything like that — modeling has been introduced to them by their parents. For me, that definitely was not the case! My parents didn't want me to do modeling at all, and with good, healthy reasons. It was all introduced on my own, self-motivated. I was starting literally from the bottom.
HC: You've had amazing accomplishments, like modeling, becoming an entrepreneur, and starting a clothing line! What's a key lesson you've learned in your career?
AK: I recently decided to call my first podcast episode "Creator Not Consumer" and talked about why it's important that I create instead of just consuming information, so I can give people value. I love having an atmosphere where I can create and provide content! That's really special to me, something I value, and something that has motivated me. I love being able to help people, and a lot of my motivation comes from having a strong and positive mindset.
HC: How do you keep a positive mindset and stay motivated?
AK: Over the past eight months, I've learned that taking time for myself is by far the most important thing. I take self-care so seriously. I prioritize it over everything else — I am my first priority. I need to get enough sleep, drink enough water, work out, and take time to rest mentally and physically. I can't pour from an empty cup, so I always work hard to make sure my mind feels like it's in a healthy state, that I'm meditating, staying committed, and dedicated to making myself the healthiest version of myself. Putting in the work and taking care of myself absolutely benefits my creations.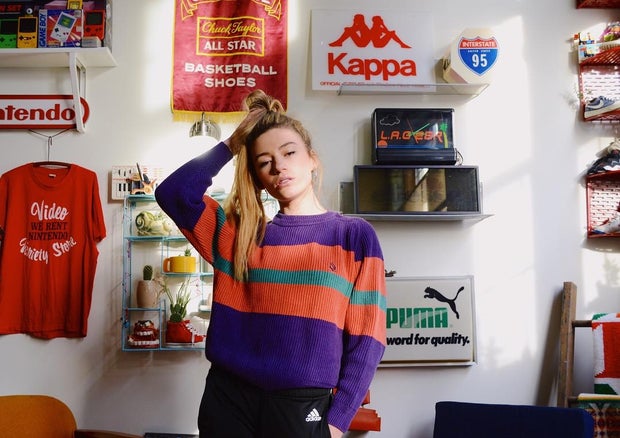 Photo: Courtesy of Allison Kimball
HC: What fitness, wellness, or self-care practices can you absolutely not live without?
AK: Every single day, I set structured goals. I'm a big planner, so I write everything out. On the daily, I have to meditate for at least 10 minutes! I use the Calm app. It's my favorite. I drink a gallon of water, or about 12-16 cups a day, and I have to have at least 7 hours of sleep — optimally, 9.5 hours is where I function the best. This one's kind of funny, but I have to do an ab workout for at least 3 minutes every day! Just warming them up feels great, and I'll stretch afterward. I also take probiotics. These are daily things I have to stick with — I'm not complete without them, and I honestly look forward to them every day.
HC: On your podcast, you mention how you've started caring for your body "from the inside out." What does this mean for you?
AK: During quarantine, I slowed everything down and thoroughly, mindfully did things. I'd eat food mindfully or enjoy a 10-minute meditation. I'd mindfully drink my water. These are small ways I got into a routine of slowing down, opening my mind, absorbing, and making every single present moment the best it can be. I've grown immensely from applying this to my life, and it feels really good. I feel the most fulfilled I've ever felt.
HC: The modeling industry can be pretty judgmental. What do you recommend for people who want to maintain their confidence and self-esteem?
AK: At the beginning of high school, there were girls who were mean. They'd say I was a 'wannabe,' or 'fake' model, an imposter, and had unattainable dreams. It stuck with me. Even last year, I said to myself, "Am I qualified for this?" But then I acknowledged everything I've put myself through, worked for, sacrificed, had sleepless nights for, even being rejected hundreds of times, and I have to credit myself for that. I have such thick skin now. It feels like I'm wearing armor sometimes — it's like nothing can touch me.
If you radiate energy that's loving toward yourself — confident and secure — that is going to become your reality. You'll keep growing. You may not see the growth in the moment, but you'll look back a few months from now, and say "wow, I turned myself into the person I wanted to become, and I don't need to make myself smaller for the comfort of other people."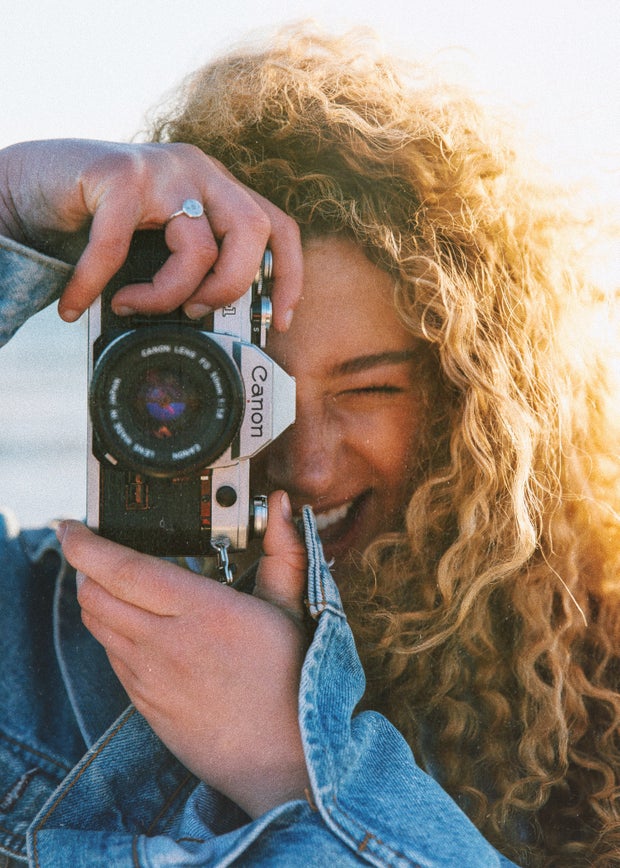 Photo: Courtesy of Allison Kimball
HC: At HC, we're all about Good Moves and finding ways to show up for yourself. What's a "good move" you're excited about making right now?
AK: I'm excited for my podcast the most. It's so fun! I love talking, I love being able to help people, and I'm so naturally passionate about it. It's a great outlet where I can completely be myself. I think I'm going to really run with it.
HC: What impact do you want to have on the world through your work?
AK: I really want to address current problems, and get global issues into the feeds of Gen Z and millennials in an unfiltered, honest way. From issues like global health, political issues, environmental…they are ever-changing. I'm always following those things. Getting other millennials and [members of] Gen Z to follow along, too, is something I'm passionate about.
Speaking with Kimball is like a breath of fresh air, and her tips for wellness and self-care are *on point.* There's no doubt she's on a quest to make the world a better place, and we hope she gives you some inspo, too! Follow Allison's journey on Instagram, and tune in to the Spiked Kombucha Podcast where she chats all things modeling, inspiration, and self-growth!