Actress Imani Lewis Has Big Plans For the Future
World, say hello to your next action star: Imani Lewis. The 23-year-old actor from Southside Jamaica Queens, NY, is ready to make a splash as the newest vampire slayer to hit the scene in Netflix's queer YA drama "First Kill."
Lewis is no stranger to the small screen — she's starred in shows like "The Equalizer" and Fox's "Star." She even has a little vampire experience under her belt from Netflix's "Vampires vs. The Bronx," a film she appeared in alongside Jaden Michael, Coco Jones, and Method Man. But for her first costarring role in a series, the breakout star finally gets a chance to show everyone what she can do on a bigger scale. "Oh, I'm ecstatic. I can't wait for everyone to see the show," Lewis tells POPSUGAR buzzing with enthusiasm. "I'm quaking. I don't even know what to do with myself. I'm so excited."
Based on a short story of the same name by bestselling author V.E. Schwab, Lewis stars as Calliope — the new girl in town who comes from a family of vampire killers. Her mission is to slay shy girl/undercover vampire Juliette (Sarah Catherine Hook), but her plan goes awry when she ends up falling for her first (failed) kill.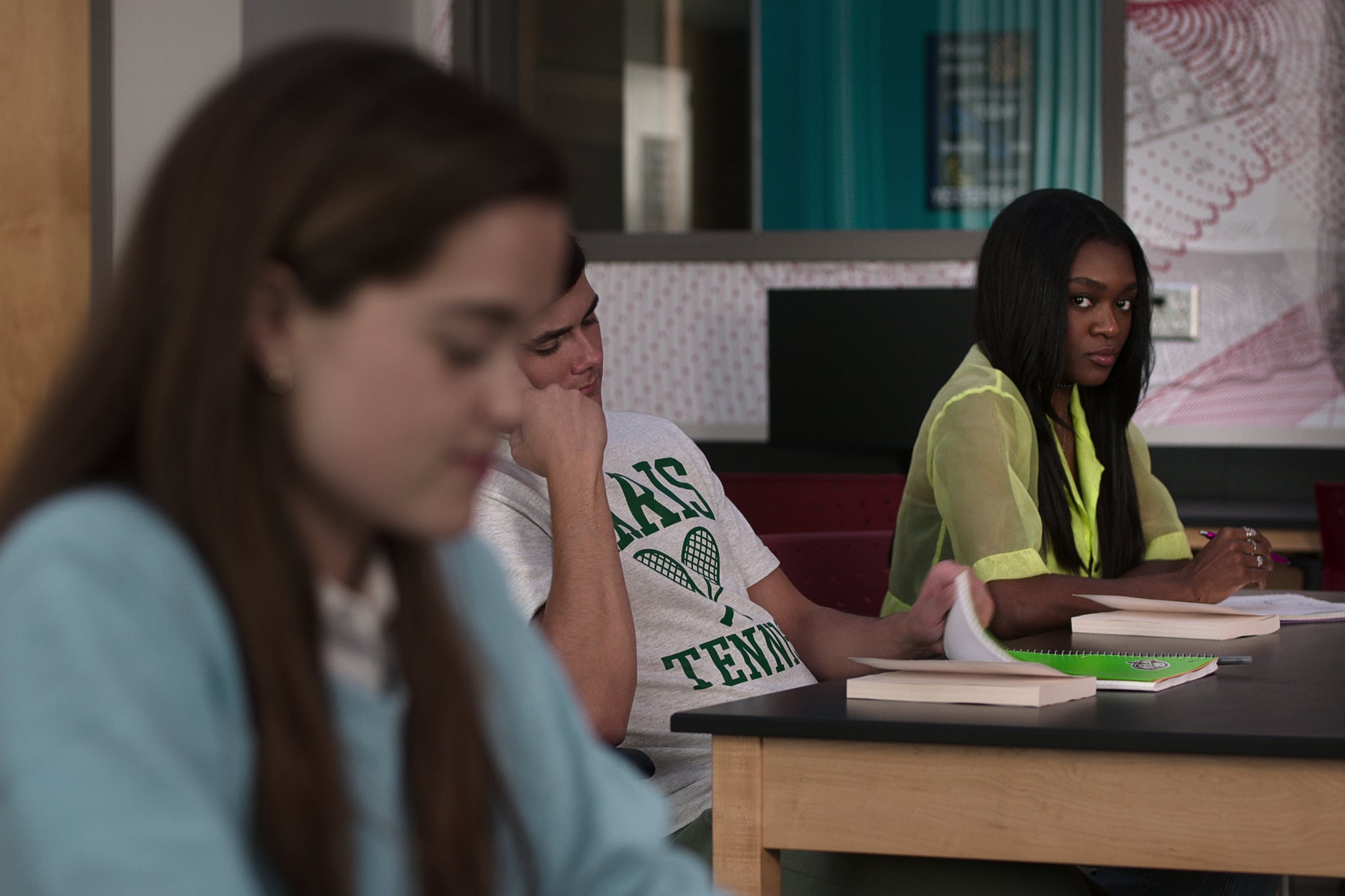 The Netflix show is basically "Twilight" meets "Buffy the Vampire Slayer" with a hint of forbidden romance similar to that of a modern-day "Romeo and Juliet." But the refreshing twist in "First Kill" is its queer teenage love story that exists as a subplot. It's not the main focus of the action-packed series, and Lewis appreciates that the storyline can simply exist without being the vehicle for the plot.
"The storyline in itself, just all the representation, I'm so honored to be a part of it," she says. "I love that it's a teenage love story. I love that it's a queer teenage love story between two young girls and that that's not their fight. That's not their journey. It's not a journey through sexuality. It's a journey through the lineage that they're born into and this mission that they're both born into: obtaining their first kills and earning their right and spot in their families."
Getting cast for a project like "First Kill" was a journey in itself for Lewis. She's been preparing for her breakout moment since she started acting at 16 years old, by way of her music. Back in high school, Lewis found herself rapping at NYC nightclub SOBs when someone in the crowd, a rep from a talent agency, reached out and told her acting was her real future. "She needs to act," Lewis recalls of a conversation between the gentleman and her manager, which eventually led to her very first audition: Netflix's "The Get Down." She snagged a role in the one-season hip-hop musical drama, and from there, Lewis's career snowballed.
While she may have stumbled into the world of acting with a nice head start, Lewis knew mastering the craft wouldn't be easy. "I'm an artist that is passionate about art and takes it very seriously," she shares. "So I was like, 'If I'm going to do this, I'm going to give it my best.'" According to Lewis, traveling for work as a high schooler was an incredibly rewarding experience. Most young people at that age don't have the discipline or support to juggle such a demanding career, but Lewis's acting peers made work feel just like home. "It just was another thing I fell in love with, and I grew such a passion for it," she says. "I'm so happy that I kept going with it, and now we're here."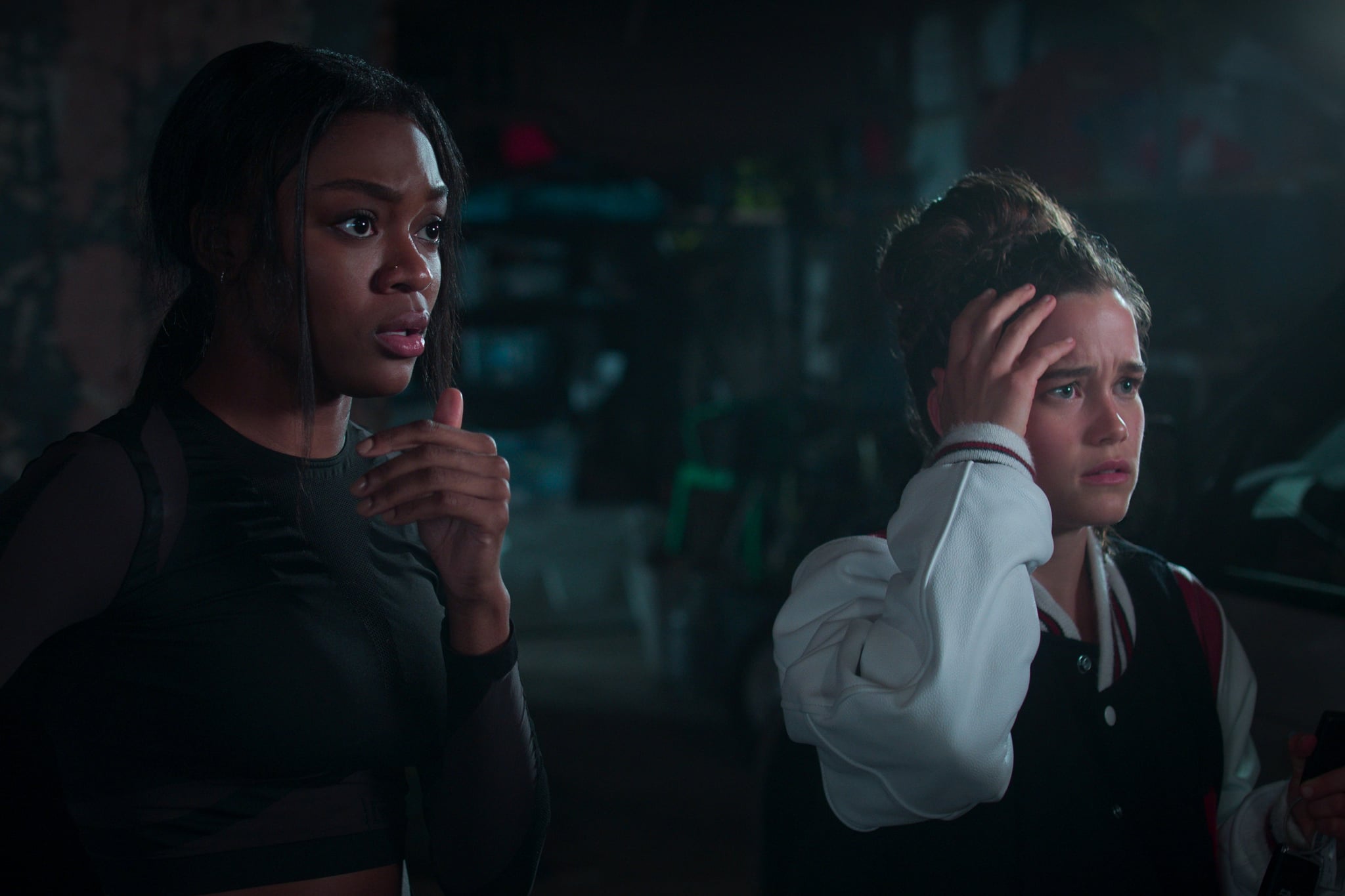 Challenges are inevitable for any young actor breaking into the entertainment industry. Lewis admits there's always a fight to prove why she deserves to audition for certain projects and keep her name circulated. "That's the constant challenge of keeping the ball rolling and being able to keep your head high, chin up, and chest out," she notes. "It's a game of being confident in yourself and putting your best foot forward." But Lewis knows there's always room for improvement. Perfecting her craft — or sharpening her sword, as she puts it — is her way of making sure she improves her skills in each and every role she tackles. "Constantly climbing that ladder and trying to be a better version of myself," she adds. "I think that's the constant challenge, but it's a challenge worth pursuing every time."
Acting isn't the only talent in Lewis's arsenal. Growing up in New York, a melting pot of music and the arts, creativity was embedded in Lewis's DNA. As a native of one of the biggest fashion capitals of the world, Lewis was bound to take a liking to the industry, so her forthcoming clothing line was destined to happen. "I've always been expressive and I've always hated uniform," she reveals. "I've always wanted to express myself through my hair, clothes, shoes, all the things that I feel like helped me paint the picture of who I am." The actor hasn't set a name or date for her clothing line just yet, but it's currently in the works.
Lewis knows she has a lot on her plate right now. Between fashion, music, and acting, she's gotten crafty with balancing all of her creative pursuits without burning herself out. "When you're passionate about something, you never really feel like you're working," she says. "It feels like you're adamant about getting up and doing it every day because you're in love with it. So I think that keeps me driven in more ways than one . . . in terms of what I think I prioritize the most, I give them all an equal effort, but acting has definitely taken the front seat because it requires a lot more time."
Acting is Lewis's current focus and she's excited about what the future holds for her now that she has "First Kill" under her belt. She has a newfound love for action, and now she's setting her eyes on a role in a certain cinematic universe. "Marvel, if you're listening, open that door," she declares. "I love strong characters — what a female James Bond could be — but I also love Tom Cruise-level 'Mission Impossible' stuff, too." Another pie in the sky wish for Lewis is getting a chance to work with some heavy-hitter Hollywood vets, and trust, she has a running list. "I want to work with the Viola Davises, Olivia Spencers, Angela Bassetts', Regina Kings, Regina Halls. There's just so many incredible actors and actresses out here," she says. "I feel like it all really depends on the genre, but I'm open to all things. I'm just so excited for whatever is to come down the road."
"I'm hoping that this role will be a catalyst for anybody and anyone who has felt misunderstood, not seen, heard, or is going through their own journey of self-awareness."

Imani Lewis
Lewis is hopeful that her role in "First Kill" can bring more understanding to the complex road of self-discovery. "One thing that I love most is that all of our characters are constantly changing and developing. They all think they have a grip on who they are at the start, but throughout the journey, they're constantly in this fight to learn who they truly are or what truly matters to them. It's important that, as people, we allow space for change, and don't pigeonhole ourselves to who we think we are . . . It's so important that we spend our time doing the things that we're passionate about so that we can spend a life full of days that feel fulfilled. So if anybody gets anything from the show, I hope it's that much."
Be sure to catch Lewis in "First Kill" on Netflix.
Image: Andrew Fennell