"Business Casual" Defined
You've heard the term "business casual" countless times. But what exactly does "business casual attire" mean for women?
First of all, "business casual" sounds like an oxymoron. It's like "seriously funny" or "jumbo shrimp." Seriously, though, a business-casual dress code is bound to cause some confusion, especially if you're in your first job out of school or going to work somewhere where there's a startup feel.
For women, it's not so simple. It may not be fair, but culturally speaking, most women are expected to spend more time and pay more attention to what we wear. And therefore, what women wear to work matters quite a lot.
What is Business Casual For Women?
In general, business casual means slacks (pants that are not jeans) and a blouse or nice top (think no crops, t-shirts or cotton tank tops), a skirt or a dress. Popular combinations often include a nice blouse with a blazer and black slacks, or a 3/4 length collared blouse and a skirt or a dress that's about knee length or longer. Some offices allow jeans and polos as part of "business casual," and others have even looser definitions. It depends on your workplace norms.
Business Casual Tips
For any recent graduate or professional who's about to start working and needs some ideas for what a business casual wardrobe looks like during the interview process, as well as the day-to-day, we have you covered.
For your interview, dress up a bit more than the average employee.
As Oscar Wilde said, "You never get a second chance to make a first impression."
Make your first impression one where the focus is on you and what you bring to the table, rather than your jewelry or the hemline of your skirt. When in doubt, there's never any harm in going for a knee-length skirt.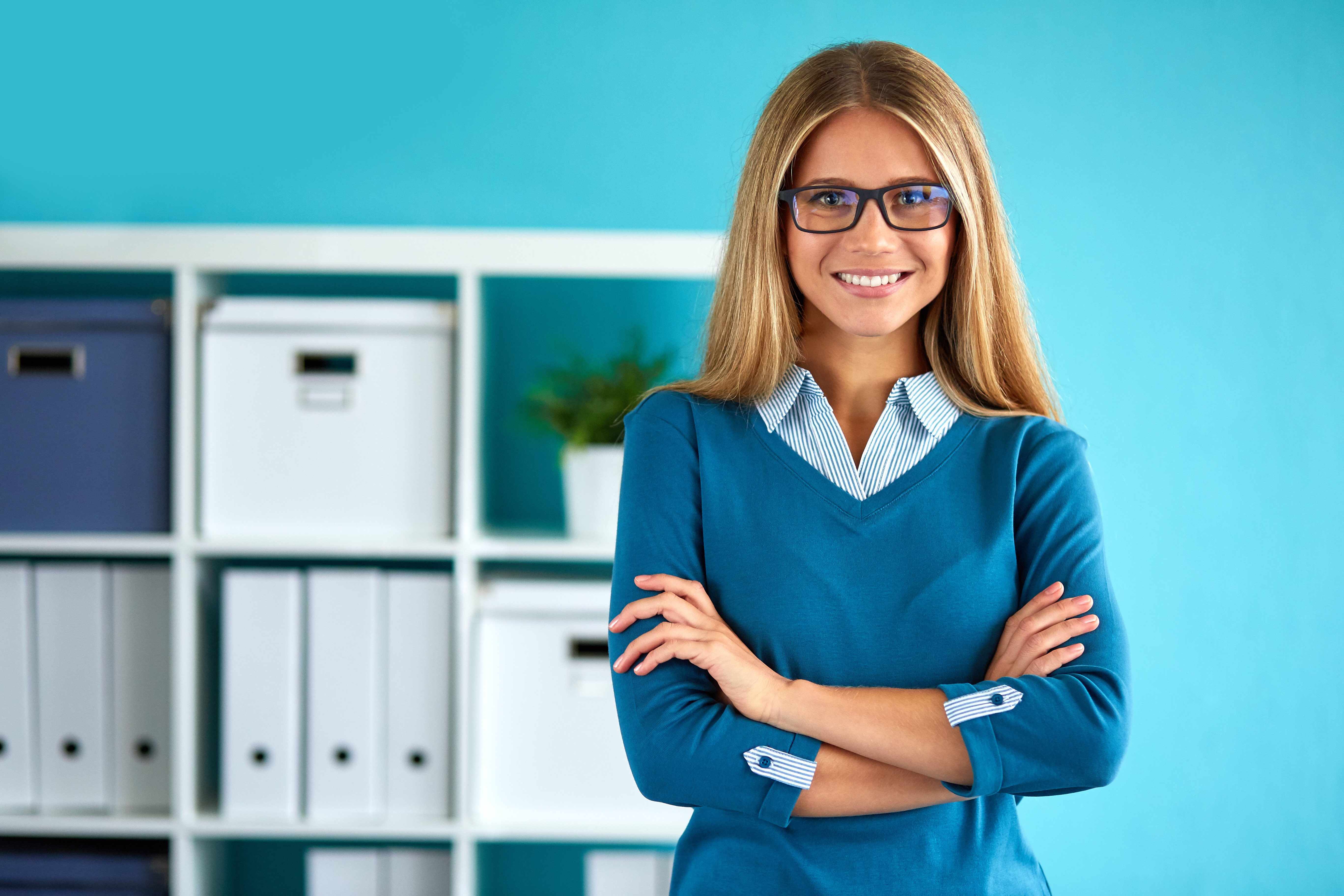 Don't underestimate the effect pretty blouses or dressy shirts can have to dress up the most mundane of slacks. But certain items probably don't fit the bill for business casual for women, e.g. polo shirts (even though they are collar shirts) with khakis, probably are a bit too informal.
Invest in some basics.
Even if you love shopping, buying work clothes sounds like, well, work. Imagine spending some of your hard-earned cash on something dull like black slacks that aren't fun enough for a night out on the town, but don't look frumpy either. While we haven't yet met anyone who particularly relishes trying on pants for the office, once you find your brand for basics and figure out your size, you (hopefully) will never have to think about it again.
Tops
What kinds of tops are appropriate for business casual? It's almost easier to talk about what is a faux pas than what to wear. Cross off anything that includes sequins, rips, graphic designs, shows too much cleavage, is too tight, exposes your midriff, is backless or looks like a wife-beater tank. In short, don't look like you're going out to a bar on a Friday night.
You're staying on the safe side if you stick with neutral colors and are probably going to be fine with any type of button-down shirt, cardigan, sweater, turtleneck, dress (that's not too formal or tight or involves spaghetti straps), or tunic styles. What about T-shirts? It all depends on whether they are "normal" t-shirts (like the kind you buy at a basketball game) or a dressy designer one. If in doubt, avoid it.
Take dress code cues based on what your colleagues are wearing.
Dress codes for work — and definitions of business casual clothing — can vary widely depending on the company and company culture. While your company may not have a formal, definitive dress code in play, pay attention to both dress codes for women and dress codes to men simply by observing what they seem to wear on a daily basis.
Read more on fairygodboss.com