Vegan Crunchwraps
Recipe Courtesy of Delish and LENA ABRAHAM
We updated a fast food favorite to be totally vegan and completely irresistible. Creamy vegan queso dip and meaty lentils make a satisfying filling while a quick trip in a hot skillet adds crunch to every bite. To make them a little faster, make the lentils up to 4 days ahead, the queso the day before, and prep your lettuce and tomatoes the morning of. When it's time to eat, grab an extra set of hands to make assembly a snap.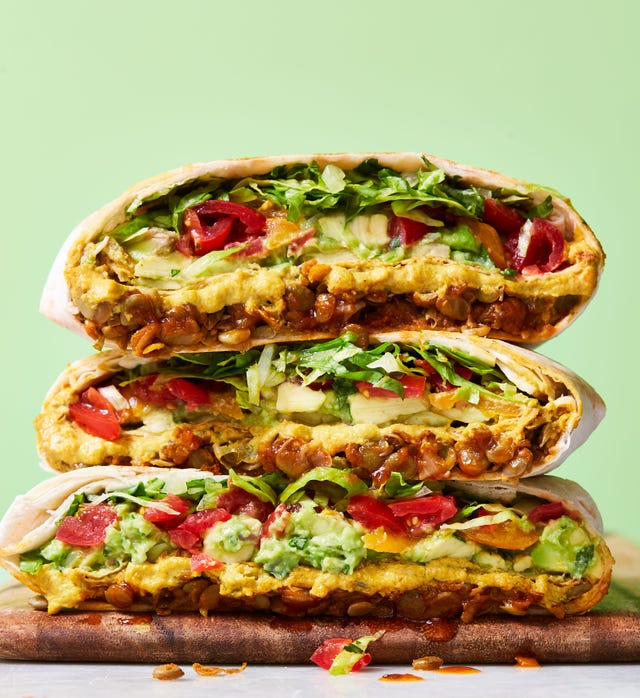 INGREDIENTS FOR VEGAN CRUNCHWRAPS
FOR LENTIL FILLING
2 1/2 c. cooked green lentils (from about 1 cup dried)
1 tbsp. extra-virgin olive oil
1 small yellow onion, finely chopped
2 garlic cloves, minced
3 tbsp. tomato paste
1 chipotle pepper in adobo sauce
1 tsp. ground cumin
1/2 tsp. ground coriander
Kosher salt
FOR CRUNCHY WRAPS8
large flour tortillas
Chipotle Vegan Queso
8 tostada shells
Guacamole
Shredded lettuce
Quartered cherry tomatoes
Vegetable oil, for pan
DIRECTIONS
Make lentil filling: In a large skillet over medium heat, heat oil. Add onion and cook until soft, 6 minutes. Add garlic and cook until fragrant, 1 minute more. Add tomato paste and chipotle pepper, and cook, mashing pepper with a wooden spoon, until tomato paste has darkened slightly, 2 minutes. Add cumin and coriander and season with salt. Add lentils and ¼ cup cold water. Stir to combine, then cook, stirring and mashing some of the lentils occasionally, until lentils are heated through and partially mashed, and no liquid remains, about 5 minutes. Add more water a tablespoon at a time if skillet becomes dry.
Build crunchy wraps: Add a scoop of spiced lentils to the center of each flour tortilla, leaving a generous border clear for folding. Drizzle with chipotle queso, then top with a tostada shell. Spread tostada shell with an even layer of guacamole, then scatter lettuce and tomato on top.
Tightly fold edges of large tortilla toward the center, creating pleats. Carefully invert crunchy wraps so pleats are on the bottom and they stay together.
Heat a thin layer of oil in a medium skillet over medium heat. Once the oil is shimmering, add one crunchy wrap at a time, seam-side down, and cook until golden, 3 minutes per side. Transfer to a plate and repeat with remaining crunchy wraps.