Keto Birthday Cake
Recipe Courtesy of Delish
Calling all Funfetti lovers! Meet your new favorite keto-friendly birthday cake. Finding sugar-friendly sprinkles (or making your own) can be a major hassle. But this clever coconut flake hack is easy, fun, and just as impressive. We're big fans of a cream cheese chocolate frosting for this recipe, but if you'd like something more classic (like, vanilla buttercream), try our best-ever keto frosting instead.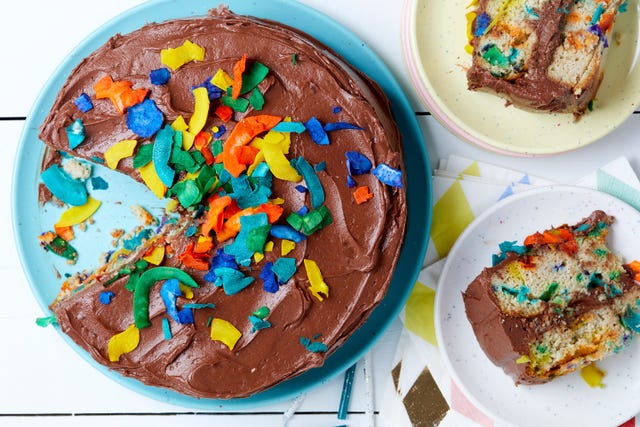 INGREDIENTS FOR THE CAKE
Cooking spray
Assorted gel food coloring
1 2/3 c. coconut flakes
3 1/2 c. almond flour
3/4 c. coconut flour
1 tsp. baking powder
3/4 tsp. baking soda
1/4 tsp. kosher salt
3/4 c. (1 1/2 sticks) butter, softened, plus more for brushing
1/2 c. Swerve granular
4 large eggs
8 large egg whites
2 tsp. pure vanilla extract
1 c. unsweetened almond milk
2 tsp. distilled white vinegar
FOR THE FROSTING
1 c. (2 sticks) butter, softened
1 (8-ounce) block cream cheese, softened
1 c. Swerve confectioners
2 tbsp. tablespoons unsweetened cocoa powder
1/4 tsp. kosher salt
1 1/2 c. sugar-free semisweet chocolate chips
DIRECTIONS
Preheat oven to 350°. Line two 8-inch cake pans with parchment paper and grease with cooking spray.
Make cake: In bottom of a small bowl, stir together about 5 drops of a gel food coloring and 3⁄4 teaspoon water. Add1⁄3 cup coconut and stir until coconut flakes absorb color. Repeat in separate bowls with remaining coconut flakes and colors. Set aside.
In a medium bowl, whisk together almond flour, coconut flour, baking powder, baking soda, and salt.
In a large bowl, beat butter and sweetener until light and fluffy, about 2 minutes. Add eggs, egg whites, and vanilla. Beat until well combined and foamy, about 1 minute. Add dry ingredients to wet and beat to combine. Add almond milk and vinegar and beat until combined.
Add all but a spoonful of each color of coconut flakes; fold to combine. Divide batter between baking pans and smooth top. Bake until toothpick inserted into center of cakes comes out clean, 50 minutes. Let cool completely.
Make frosting: In a large bowl, beat butter, cream cheese, sweetener, cocoa powder, and salt until light and fluffy, about 2 minutes. In a microwave-safe bowl, microwave chocolate chips until just melted. Pour melted chocolate into butter mixture and beat until well combined.
Using a serrated knife, remove domed tops of cakes to even. Place one cake on a platter or cake stand. Spread 1 1⁄2 cups frosting onto top of cake layer. Top with remaining cake; frost top and sides with remaining frosting. Sprinkle top of cake with reserved colored coconut.
Image Courtesy of Lucy Schaeffer